4th Sino-German Symposium on Intelligent Robots (2021)
27th February, 2021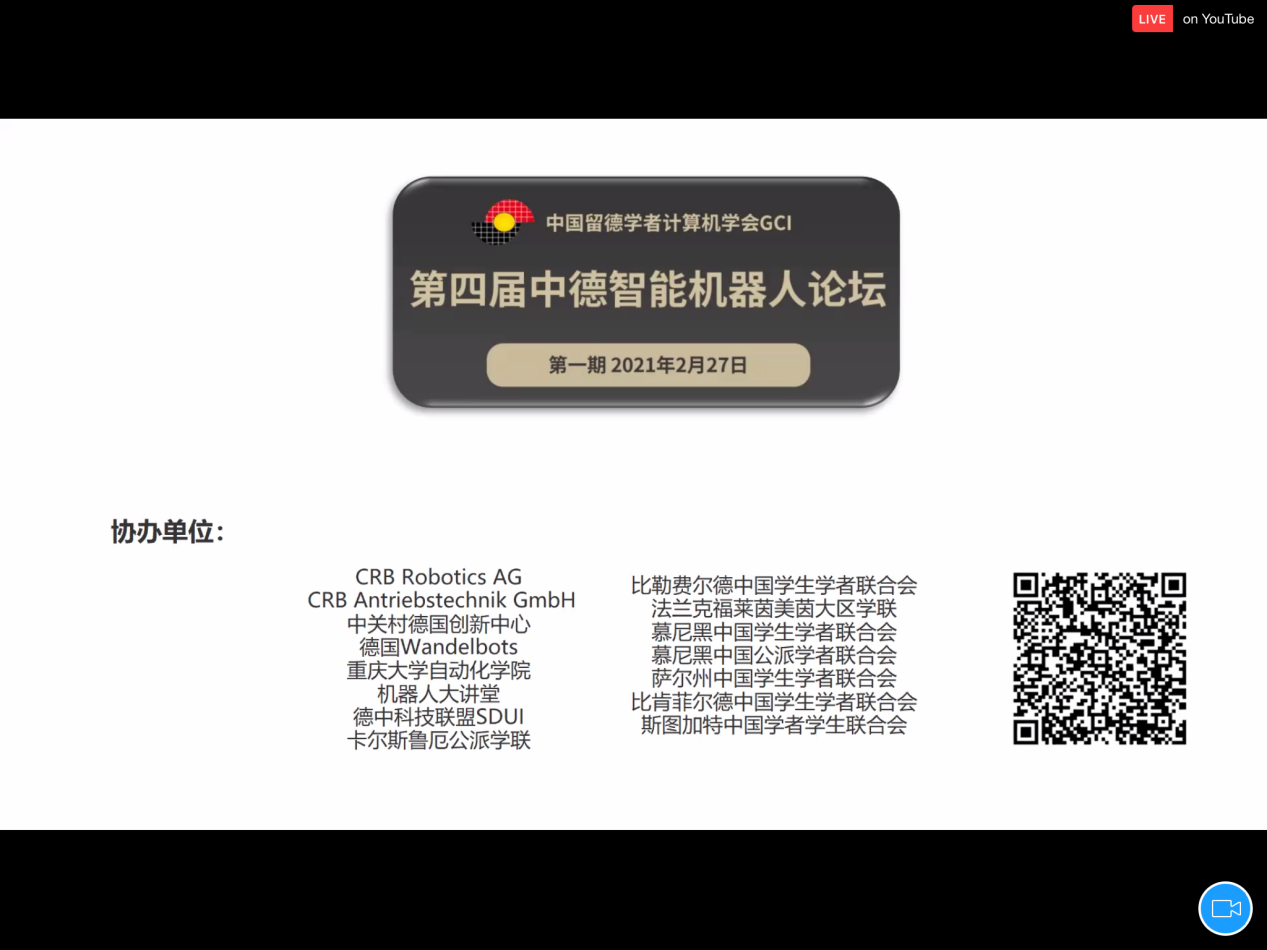 Introduction
The first session of Sino-German Symposium on Intelligent Robots 2021 (SGIR 2021) was held on 27th February online through Zoom meeting and YouTube live streaming. The conference focused mainly on Sino-German robot funding projects and the latest news of R&D on intelligent robots. More than 200 people participated in the conference, including students and experts from computer science and robotics, Chinese scholars and entrepreneurs in Germany.
Since 2016, the symposium has been organized by G.C.I (Gesellschaft Chinesischer Informatiker in Deutschland e.V.), the association of Chinese computer scientists in Germany, and co-organized by CRB Robotics AG/CRB Antriebstechnik GmbH, Wandelbots Germany, The School of Automation of Chongqing University, RoboSpeak China and Chinese Students and Scholars Associations in Germany. The conference programme is attached in Annex 1.
Opening Session
The opening session was chaired by Dr. Jiahua Xu, vice chairman of G.C.I, who gave a brief overview of keynoters of the conference. Dr. Qiang Li, the president of G.C.I, then delivered a welcome speech and declared the symposium of the year 2021 officially open. It was followed by speeches of several guests: Mr Liuzhao Cai, chairman of CRB Antriebstechnik GmbH, Ms Fei Xun, director of German branch of ZGC Innohub, Mr Jian Wang, secretary general of China Science & Technology Automation Alliance, and Dr. Ling Sun, who is from Berlin Technology Center (Yangtze Delta Region Institute of Tsinghua University).
Session 1 - Academic Research
The session was chaired by Dr. Rui Li, who is from Chongqing University.
Prof. Zhendong Dai shared his research on gecko's locomotory mechanism and bionic gecko robots. By studying the neural regulation mechanism of gecko, movement mechanism, and adhesion theory of setae on toes, a new type of bionic adhesive material was invented, which can be applied in many fields, for instance, aerospace. Besides, a multi-axis force sensor for robots was developed successfully by his team, which attracted many overseas commercial clients. At the conference, Professor Dai also demonstrated the application of gecko robots in small and narrow spaces and under harsh conditions, such as working robots on the ceiling and crawling robots in a vertical plane. " For an early accomplishment of technology industrialization and serving industry demand," Professor Dai said, " Research direction is going to achieve the jump and landing of bionic gecko robots."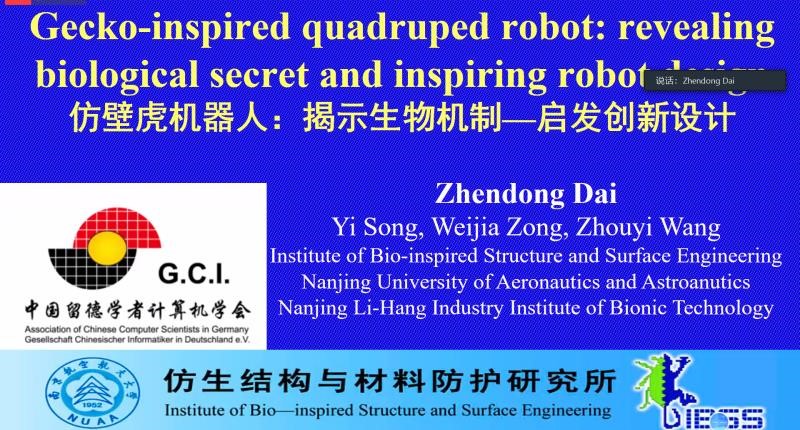 Assoc. Prof. Xin Du introduced Sino-German Center for Research Promotion(SGC), the cooperation between the National Natural Science Foundation of China (NSFC) and the German Science Foundation (DFG). In addition to various exchange projects funded by SGC and corresponding experience, he presented it comprehensively from aspects like geographical location, development history, and the constitution of the organization. Meanwhile, Professor Du encouraged eligible scientific and technical personnel to apply for SCG projects.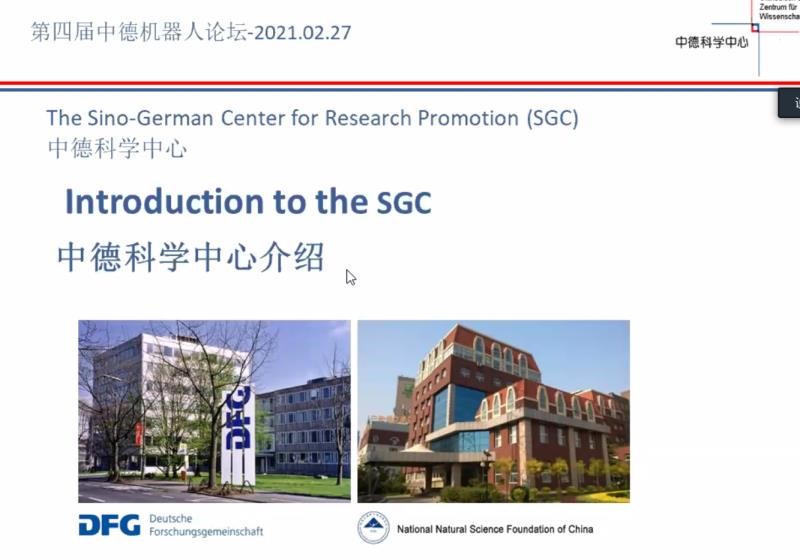 Prof. Xiaojie Su presented the report entitled "The theories of intelligent control and the application of autonomous unmanned systems", which is the highlight not only of the future development in artificial intelligence and the technology of unmanned systems. In addition to the fuzzy system control in intelligent control technique, Professor Su elaborated how intelligent control technology was applied to service intelligence on robots and unmanned systems. At last, by his own background in theoretical research, Professor Su shared his experience of transferring from pure academic theory to the area of engineering applications.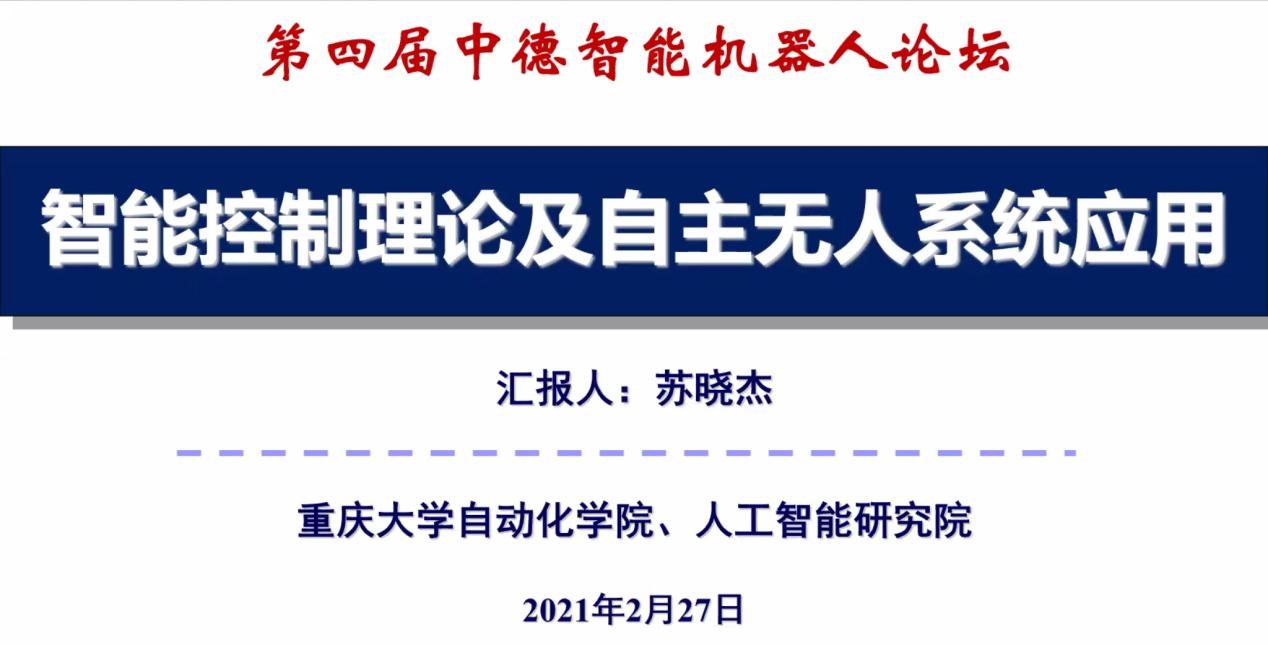 Session 2 - Industry Dynamics
This session was chaired by Dr. Mingchuan Zhou, who is from The Technical University of Munich.
Dr. Yu Zheng, a principal researcher from Tencent Robotics X, gave an exclusive presentation of his new project — a four-legged robot walking on quincuncial piles. With the help of their independent and innovative R&D on precise visual perception, optimal motion planning, and precise algorithm of motion control, Jamoca, the quadruped robot, was able to walk steadily and efficiently on piles. The project reached a high precision of the landing position, and it optimized not only the position but the sequence and duration of the stride in a variety of ways.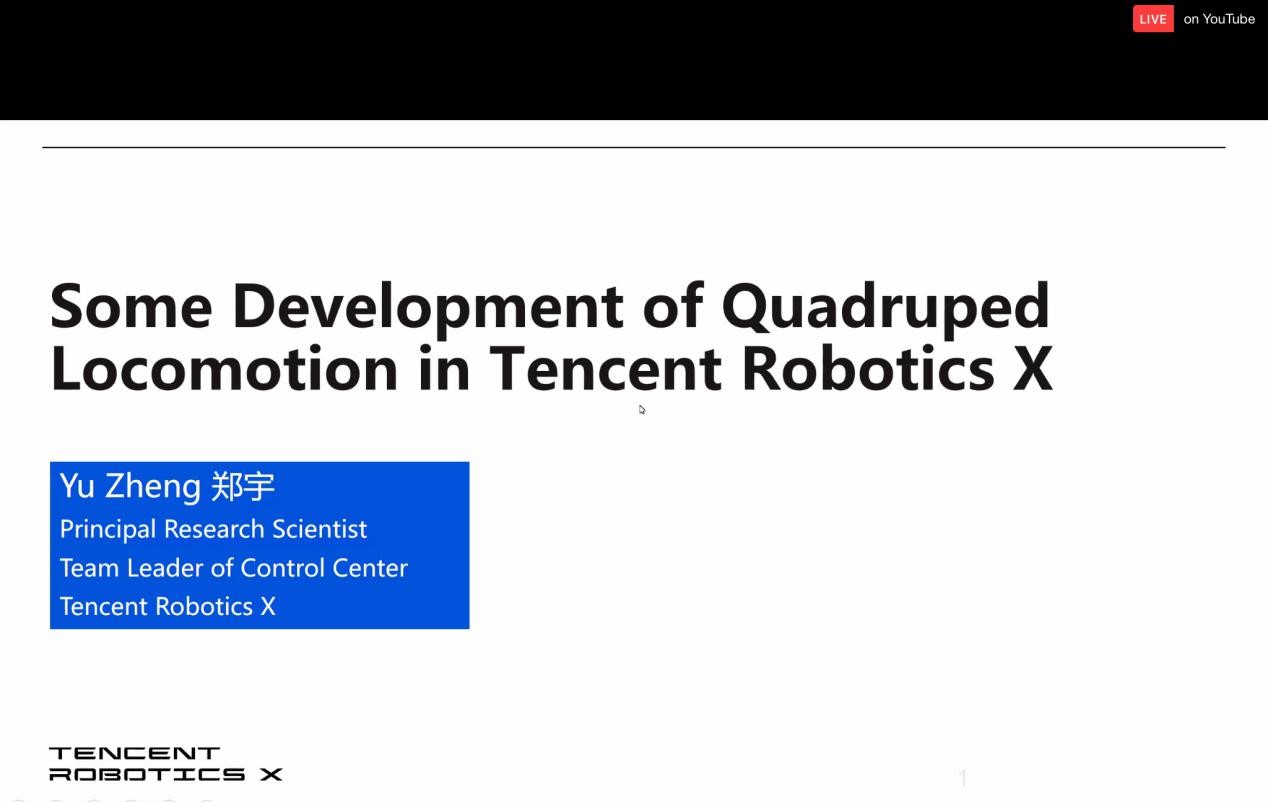 Dr. Limin Zeng from Wandelbots(Germany) introduced firstly characteristics of industrial robots and the development of robot programming languages, from traditional approaches (e.g. offline simulation-based software, online teach pendant) to the latest approaches (e.g., hand guiding). He then highlighted the advantages of the TracePen system, smart teaching based on the no-code robot programming approach invented by Wandelbots Germany. In the end, Dr. Zeng shared his insights with the audience about the future vision of programming-free, automatic code generation, multimodal robot teaching, and self-learning technology based on artificial intelligence.
Conclusion
During the question and answer session, participants came up with lots of interesting questions and ideas regarding innovative products in a way of combining the studies of industry and scientific research. The discussion inspired further exchange between the speakers and the audience.
The Sino-German Symposium on Intelligent Robots, as a high-quality platform for experts, business leaders, young scholars, and talents in the field of robotics, AI, and automation, has been committed to strengthening the academic and industrial communication between China and Germany.
Co-organizer
CRB Robotics AG/CRB Antriebstechnik GmbH
Wandelbots Germany
The School of Automation, Chongqing University
RoboSpeak China
CSC Scholarship Association in Karlsruhe
The Chinese Students and Scholars Association in Bielefeld
The Chinese Students and Scholars Association in Rhine-Main Metropolitan Region
The Chinese Students and Scholars Association in Munich
CSC Scholarship Association in Munich
The Chinese Students and Scholars Association in Saarland
The Chinese Students and Scholars Association in Birkenfeld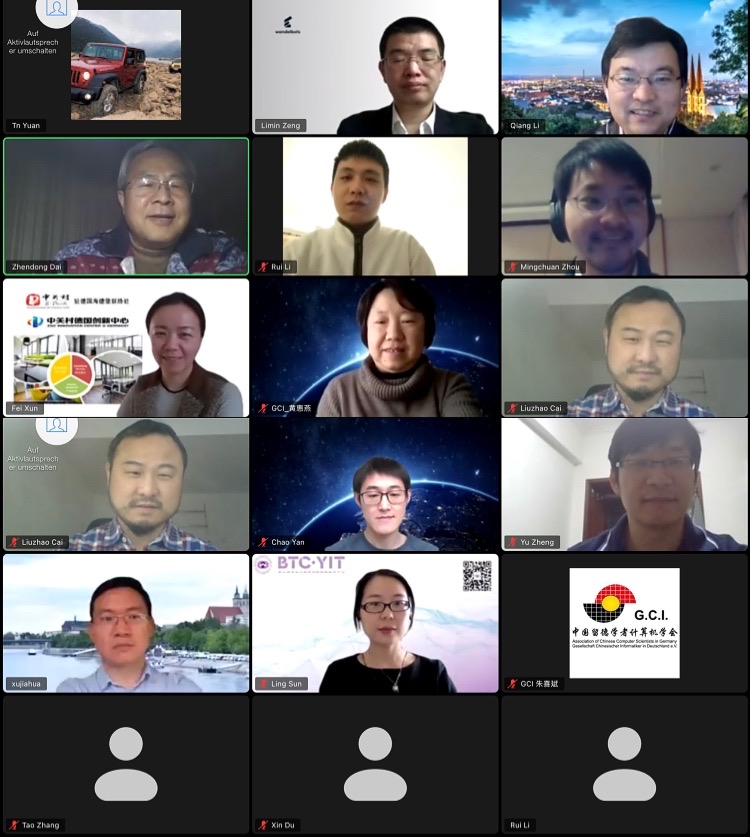 Author: Yuan Tian